Possible Free Skillmatics Holiday Game Night (Tryazon)
Let the games begin! What sort of games does your family play on game night at home? Apply for Skillmatics Holiday Game Night. There are 100 host positions open for this party.
 Found It! Indoor Edition is an fun scavenger hunt that helps children learn as they explore with prompts like 'Can you find..? Something with a pattern? Something smaller than your palm?' Players must shout "FOUND IT!" as soon as they get their hands on the object. The first one to get 7 cards wins the game!

 Guess in 10 is a game of smart questions that is fun for children of all ages. Players ask up to 10 questions to win a game card such as, 'Where does the animal live? or 'Does this state have a coast?' The first player to get 7 game cards wins the game. Guess in 10 Jr, is designed especially for pre-readers.
There are two party packs available for this party. If chosen you will receive one of the following:
Party pack 1 contains
Found it Indoor card game
Guess in 10 Junior – Animal Kingdom card game
And a Party Host Guide to help you plan and carry out the party!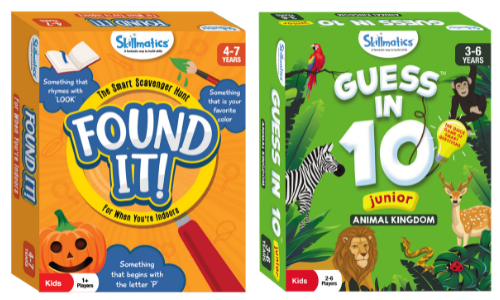 **********
Party Pack 2 will contain
Guess in 10 – Animal Planet card game
Guess in 10- States of America card game
And a Party Host Guide to help you plan and carry out the party!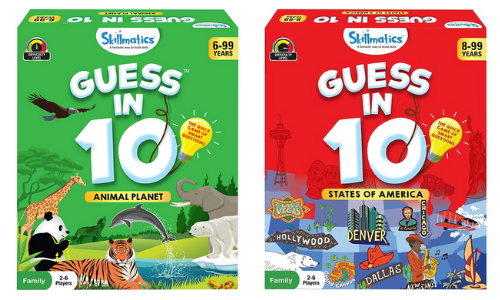 Apply to try
Apply today! The application deadline for this Skillmatics Holiday Game Night from Tryazon is November 10, 2021.
Learn More
About Tryazon
Get ready to party! 🙂 🎉
Tryazon is a service that helps bring outstanding brands and their products & services into your home to experience first-hand. The party packs provided by our brands include samples, exclusive offers, and often freebies for your guests. We only select the very best products, often things that are new and exciting, giving you something to talk about!
Party & Event Sampling Opportunities
Tryazon provides a number of parties & events that are sponsored by our partners, where party packs are provided at no charge to selected hosts. These events are held on specific dates. A limited amount of host spots are available per party.
How Product Tests Work
Product Tests have a few more steps than easy freebies. For example, with easy freebies you only have to give your shipping info. Conversely, you need to apply for product tests, and they choose select applicants. But, since they're usually full-size products and more valuable items, it's worth it!
Sometimes, there will be a short survey. They do this to match you with the products and/or companies looking for people like you. And, with product tests there's a limited supply of free things. Often, product tests require that you try the item and review it or tell them what you think of it. Similarly, some sellers will offer free with a review products to get more reviews. See our big list of Product Test opportunities and learn more here.
Want to learn more about Freebies?
You can buy my book on Amazon, How to Get Anything Free – or I'll give it to you for free if you sign up for the GimmiEclub, our free daily email.